by Steve Carlson, on Aug 30, 2017 10:17:10 AM
Using Search and Sort Together
A few days ago we discussed how you can use PDPwork 4.0's Search and Sort functions independently to find and add the people you want to add to a TeamScan or Job Model. However, by using them together, you can quickly and efficiently zero in on just those people you want. This is true even for those PDPworks accounts with a high volume of reports and/or multiple surveys from repeated administrations!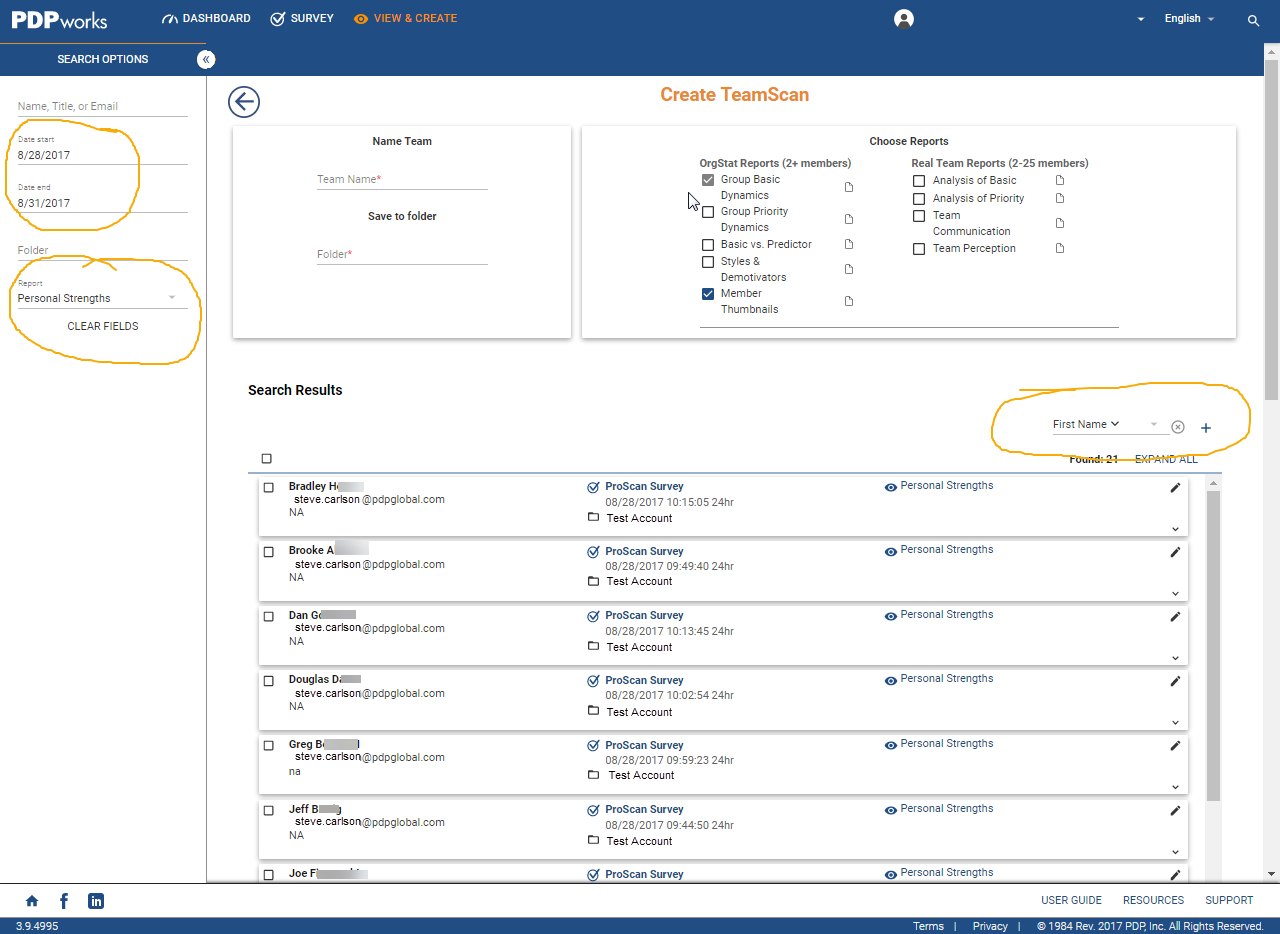 In the example above for finding team members to create a TeamScan, we used Search and Sort in the following way:
We knew that the entire population we were interested in had recently taken the survey, so we limited the date range to a four-day period to filter out all the other survey/reports in the database.

Each of those individuals had a Personal Strengths Report, a QuickView, and a Side-by-Side generated from their survey.

Since, w

hen creating a TeamScan it does not matter which report you select because PDPworks uses the inputs associated with the underlying survey, not the report itself,

our initial list was 3x longer than necessary! So, we filtered the search results further by using the Report search option and selecting Personal Strengths. This narrowed the results down to the exact list we were looking for!
To order the list, we used the Sort by function to alphabetize the list by first name. Then we added them to the team. You may also add them to the team and then sort. It is up to you!
The above depicts adding contributors to a TeamScan, but the same functions can be used for building Job Models as well as the View All page.
Check back each day to see what is coming up!
Watch your inbox for previews of new features, requirements, and report upgrades, as we draw closer to the anticipated release of PDPworks 4.0. If you are not receiving our email announcements for the upcoming release, why not subscribe?
Not a PDP Client?
Join the thousands of happy customers and gain access to the amazing power of PDP.