New Report: Connect with Me
by Brent W. Hubby, on Aug 2, 2020 9:00:00 AM
Be sure to check this report out! Beta testing results were terrific.
This simple, easy-to-read, one-page ProScan result chart is great to give individuals after a one-on-one ProScan feedback session so they can share with others. When the Connect with Me chart is displayed in an individual's office or cubicle, others better understand how to work and communicate with each other.
Here are the notable design aspects:
Individual's name displays in same color as highest trait
Traits dots contain name of trait including Logic and Energy
Depending on which side of the mid-line the trait plots, the wording on how to connect with their trait is bolded
Individuals interested in learning more can visit a landing page with additional learning courses
When choosing the
Personal Dynamics report
, the Connect with Me report will automatically check as well at no additional cost.
Want to generate a Connect with Me for individuals surveyed in the past so they are not left out? Go to View All > Search and Select individual and click Upgrade. This report is included with Platinum and Enterprise Solution plans and is also of no additional cost to Gold or Silver plan accounts if a Personal Dynamics Report was previously generated.
Want to use
Connect with Me
for team development? Once the
TeamScan
is created, go to View TeamsScans > click
Connect with Me
icon (by name tag icon) to generate a Connect with Me for all members on the team.
Where to find: Surveys > ProScan Invitation or Manual Entry > Choose Reports, or View All > Upgrade, or View TeamScans > Connect with Me icon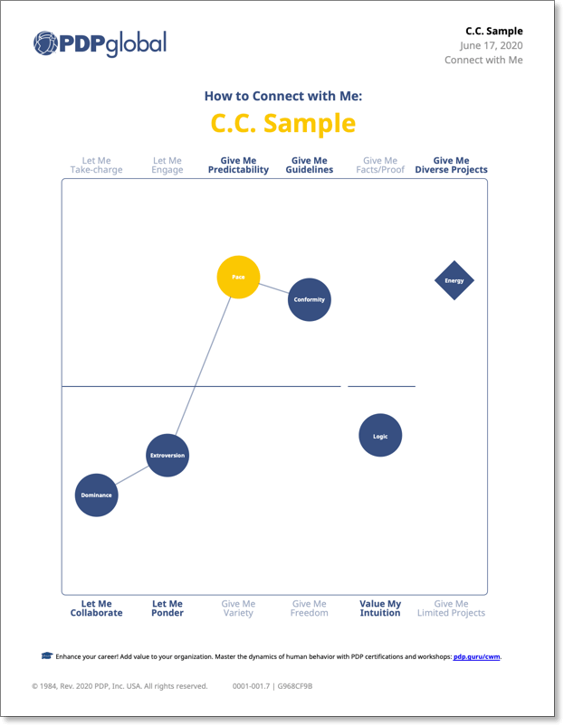 Released August 1, 2020 | Ver. 4.1.12301.