Making Better-Informed Hiring Decisions
by Brent W. Hubby, on Oct 11, 2021 11:15:00 AM
PDP is pleased to announce an update to its screening and selection module, JobScan, and the release of the Applicant Match Summary report page. On October 15, 2021, after 5:00 p.m. (Mountain Time), the new Applicant Match Summary page will replace the Comparison Chart page.
The redesign parameters included the following:
User-friendly navigation
Easy-to-understand icons for quick identification of information
Descriptive statements of how well an applicant matches the job model



The addition of descriptive statements is particularly important since it provides all levels of users with a clear understanding of the job trait requirements along with a description of how the applicant matches or differs from the job style. The new descriptive statements also minimize any confirmation bias that users may have allowed to affect their decisions (e.g., thinking an applicant's trait was a "close enough match" to what the job required when, in actuality, it was not a good match).
The Applicant Match Summary (sample shown below) provides information on four key areas: (1) Trait Match, (2) Trait Pair Match, (3) Major Stress Alert, and (4) Match Score. The new graphic is consistent with the Applicant Match Intensity Chart but now includes the applicant trait locations based on the icons.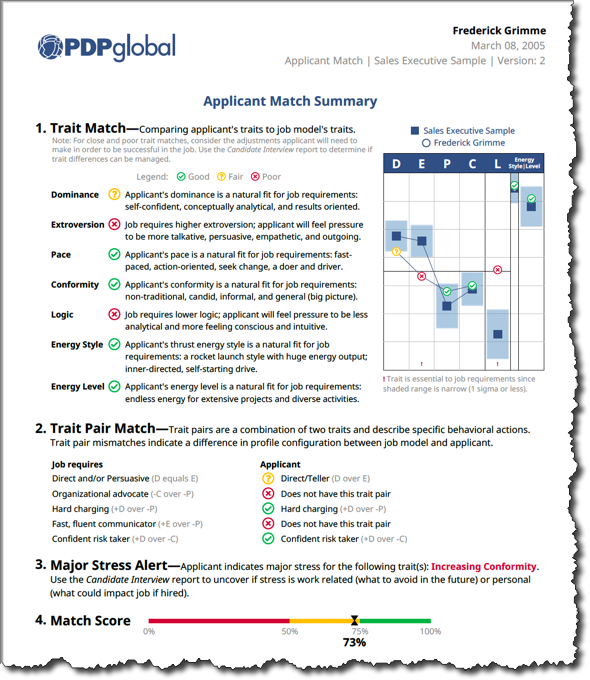 The first page of the Applicant Match will continue to include the frequently used Applicant Match Intensity Chart with the applicant's profile superimposed over the job model profile. On the second page, the old Comparison Chart is replaced by the new and improved Applicant Match Summary.