Help. Can't Get New Side-by-Side Report
by Brent W. Hubby, on Nov 4, 2020 3:56:54 PM
We recently heard from a PDP user who was excited to generate the new Side-by-Side Comparison of Pressures report—but when he tried he received an error that the Side-by-Side already existed.
He had previously generated the Side-by-Side report which combines the ProScan Basic/Natural Self of two individuals into single report. He used this to help strengthen communication between the two individuals, but there was still an underlying rub.
He saw the recently released Side-by-Side Comparison of Pressures report and knew it would be key in turning the remaining contention into accord. He saw how stepping through the Priority Environment pressures for each individual would be the perfect way to clearly show what was getting under the other's skin. He was eager to use the discussion guide included in the report to prompt open-ended questions and discussions to proactively identify, address, and resolve conflict—but couldn't create the report!
Since a Side-by-Side (Basic/Natural Self) was already generated the app was protecting him from generating a duplicate report. Instead, the user simply needed to go to the View > ProScan > Side-by-Sides page (which lists existing reports) and use the UPGRADE feature to add the Side-by-Side Comparison of Pressures report.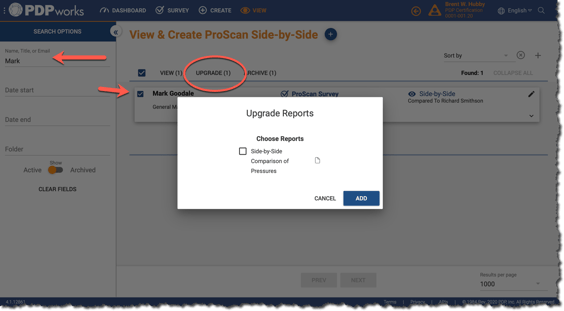 Want more information? Check out these blog posts introducing these two powerful reports:
Where to find: View > ProScan > Side-by-Sides. Search by name for either one of the individual's with the previously generated Side-by-Side report. Select and click UPGRADE.
Released|Version 4.1.12861