by Steve Carlson, on Sep 5, 2017 10:03:40 AM
My . . . er . . . that is, Your Information
If you ever need to review your personal or organization information, you can easily do so in PDPworks. 4.0. Under the User Menu, which is in the upper right-hand corner of the screen, you will see several items. The first menu item is "My Information."
Personal/Organization/Key Contact/PDP Representative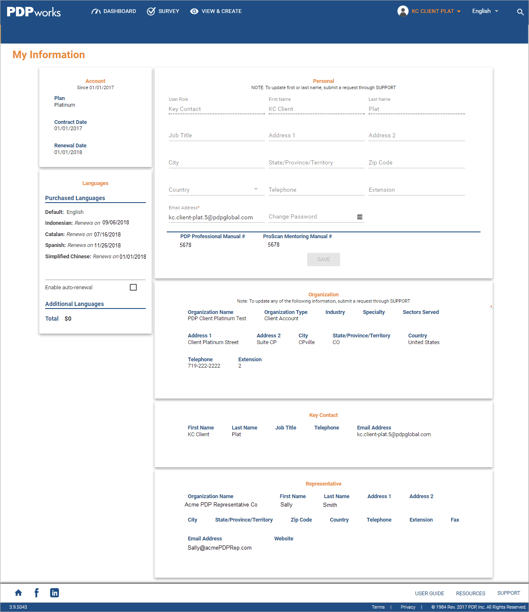 The first box of the right-hand column has your Personal information including your address, email, and the manual number(s) assigned to you. To update your name or email address, please submit a request through the Support link found under the User Menu or in the footer (bottom right-hand corner of the window).
Just above your manual number(s), is the field to input a new password, should you wish to change it. Once you have entered the new password, click the Save button.
The boxes under Personal contain information about your Organization, Key Contact, and PDP Representative.
Account Information
The top box of the left column is Account information.
For Platinum plans, it includes
the date when the account was activated,

the date when the current contract started, and

the date when the contract is up for renewal.
For Gold plans, the Account information includes
the date when the account was activated,

the maintenance fee billing cycle (monthly or annually),

the next maintenance fee amount, and

the next billing date.
Languages
Under the account information for all plans are languages that you have already purchased and the languages yet available for purchase. When you purchase a language, you will be prompted for a credit card for the annual fee. Purchased languages are available to every user in your account.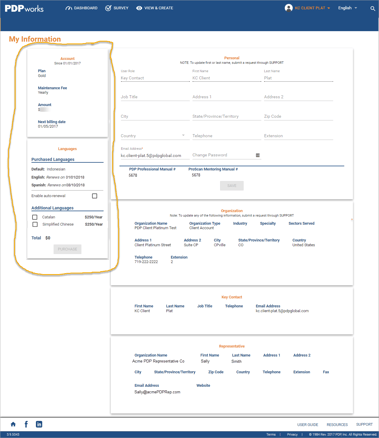 Watch your inbox for previews of new features, requirements, and report upgrades, as we draw closer to the anticipated release of PDPworks 4.0. If you are not receiving our email announcements for the upcoming release, why not subscribe?
Not a PDP Client?
Join the thousands of happy customers and gain access to the amazing power of PDP