by Steve Carlson, on Aug 9, 2017 11:01:47 AM
Watch your inbox for previews of new features, requirements, and report upgrades, as we draw closer to the anticipated release of PDPworks 4.0. If you are not receiving our email announcements for the upcoming release, why not subscribe?
Familiar Graphics Now Refreshed
Intensity Chart & Data Sheet
We're pleased to introduce several updates to two familiar graphics, the Intensity Chart and the Data Sheet. Several other new features will be highlighted later in this blogpost series.
No More Rotating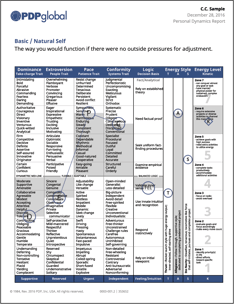 You spoke, we listened. The new Intensity Chart is redesigned to fit the portrait orientation—no more rotating the page to view the graph! Trait letters are added to the trait dots for ease of identifying traits. And, the Energy Level column includes the zone number (e.g., 7, 6, 5...) instead of the energy level name. Enjoy using the refreshed Intensity Chart without the awkward distraction of rotating the page or turning your head!
Data Sheet Modernization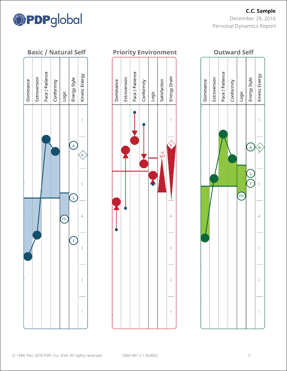 The Data Sheet has been modernized with stylistic changes that will make the page easier to read, simpler to print, and more attractive. Profiles are outlined in the color of the profile (Blue for Basic, Red for Priority and Green for Predictor). We even rounded the corners of the graph to give it a fresh look. Next, to help users understand the connection between the 1-7 scale and the Energy Level or Energy Drain metrics, we moved the scale into the columns in all three graphs. This makes it much easier to see the "battery size" or "gas tank" of the individual along with the energy drain occurring in the Priority Environments. Finally, we increased the footer margin on all report pages so you no longer have to choose "fit to page" in print dialog box to keep the footer from being cut off.
Not a PDP Client?
Join the thousands of happy customers and gain access to the amazing power of PDP