#18 - Invitation Languages
by Steven Carlson2, on Aug 29, 2017 1:22:32 PM
Loads of Possibilities
In a previous blog, we discussed how the entire PDPworks 4.0 user interface and the reports can be easily switched to one of 5 different languages. We have a video on that topic in the "How To" video library. Now, we thought it would be good to show you one of the standard language features in PDPworks 4.0.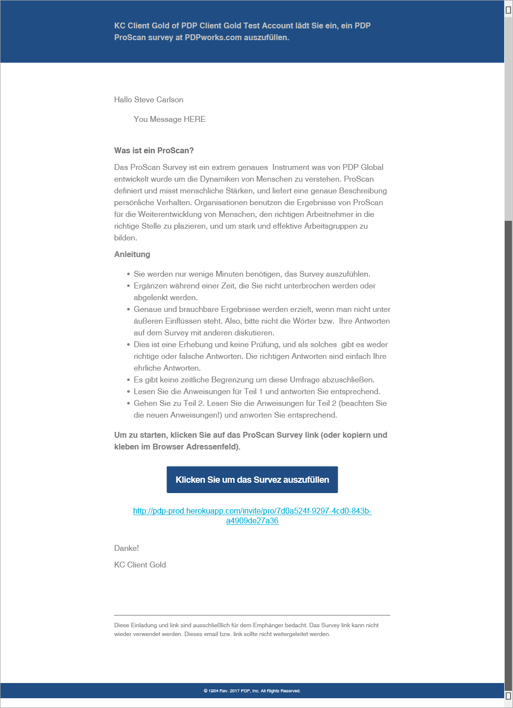 Above is an actual ProScan Invitation email sent in German allowing the respondent to take the ProScan survey in that language. Creating an email like this is as easy as choosing the language from the drop down list of 21 languages (see top image) on the ProScan or Applicant invitations. For JDA invitations you have a choice of 12 languages. Once you have entered the required invitation information, just click "Add" before continuing with the next invitation. A different invitation language can be chosen for each person that you are sending an invitation.
As you can see in the German example above, you can include in the invitation email an optional message, which will appear just after the greeting.
Hint! If you want your optional message in a different language, you will have to type it in that language—or use Google Translate! :-)
Check back each day to see what is coming up!
Not a PDP Client?
Join the thousands of happy customers and gain access to the amazing power of PDP